Healing Power: Living Traditions, Global Interactions (edited by Cunera Buijs and Wouter Welling)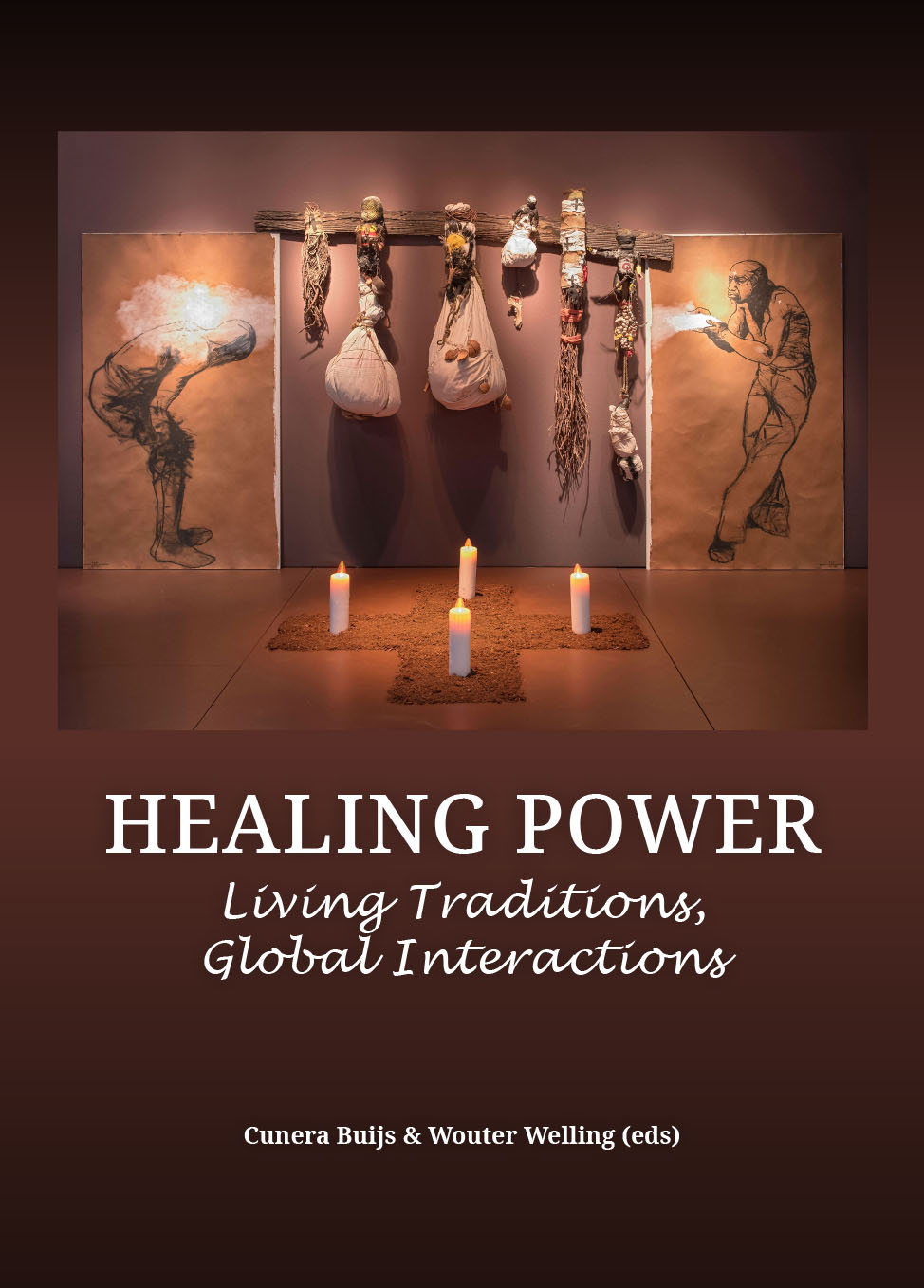 Hidden healing practices exert fascination and stimulate extensive scientific and public interest. It is a contested topic for many indigenous peoples. Throughout the ages, numerous spiritual healing forms have been marginalized or severely persecuted. Nowadays, however, there is a growing interest in these traditions all over the world. Some are recovered and sometimes also mixed resulting in the blending of different indigenous and Western approaches.
After the loss of the original spiritual contexts during the colonization period, indigenous peoples around the world revive parts of their cultural heritage. They also find inspiration in foreign cultural traditions. Next generations develop new ways to connect to the ancestors and search for new healing practices. This publication explores a limited selection of the manifold collective and individual healing practices, such as shamanism, winti, vodou and European witchcraft. Practitioners and/or academics share their insights and perspectives. Power objects and healing related art from the collection of the National Museum of World Cultures in the Netherlands reveal hidden meanings of sacred traditions. Contemporary artists are inspired by spiritual healing and renew its meaning in the present.
ps://www.sidestone.com/books/healing-power
The Social Life of Spirits (edited by Diana Espirito Santo and Ruy Blanes)
Chapter 10: Toward an Epistemology of Imaginal Alterity: Fieldwork with the Dragon
Spirits can be haunters, informants, possessors, and transformers of the living, but more than anything anthropologists have understood them as representations of something else—symbols that articulate facets of human experience in much the same way works of art do. The Social Life of Spirits challenges this notion. By stripping symbolism from the way we think about the spirit world, the contributors of this book uncover a livelier, more diverse environment of entities—with their own histories, motivations, and social interactions—providing a new understanding of spirits not as symbols, but as agents.
The contributors tour the spiritual globe—the globe of nonthings—in essays on topics ranging from the Holy Ghost in southern Africa to spirits of the "people of the streets" in Rio de Janeiro to dragons and magic in Britain. Avoiding a reliance on religion and belief systems to explain the significance of spirits, they reimagine spirits in a rich network of social trajectories, ultimately arguing for a new ontological ground upon which to examine the intangible world and its interactions with the tangible one.
Religion and the Subtle Body (edited by Geoffrey Samuel and Jay Johnston)
Chapter 11: Magical Consciousness: Relationships with the Natural World, Animals and Ancestors
Subtle-body practices are found particularly in Indian, Indo-Tibetan and East Asian societies, but have become increasingly familiar in Western societies, especially through the various healing and yogic techniques and exercises associated with them. This book explores subtle-body practices from a variety of perspectives, and includes both studies of these practices in Asian and Western contexts.
The book discusses how subtle-body practices assume a quasi-material level of human existence that is intermediate between conventional concepts of body and mind. Often, this level is conceived of in terms of an invisible structure of channels, associated with the human body, through which flows of quasi-material substance take place. Contributors look at how subtle-body concepts form the basic explanatory structure for a wide range of practices. These include forms of healing, modes of exercise and martial arts as well as religious practices aimed at the refinement and transformation of the human mindbody complex.
By highlighting how subtle-body practices of many kinds have been introduced into Western societies in recent years, the book explores the possibilities for new models of understanding which these concepts open up. It is a useful contribution to studies on Asian Religion and Philosophy.
Defining Magic: A Reader (edited by Bernd Christian-Otto and Michael Stausberg
Chapter 21: "Magical Consciousness: A Legitimate Form of Knowledge"
Magic has been an important term in Western history and continues to be an essential topic in the modern academic study of religion, anthropology, sociology, and cultural history. 'Defining Magic' is the first volume to assemble key texts that aim at determining the nature of magic, establish its boundaries and key features, and explain its working. The reader brings together seminal writings from antiquity to today. The texts have been selected on the strength of their success in defining magic as a category, their impact on future scholarship, and their originality. The writings are divided into chronological sections and each essay is separately introduced for student readers. Together, these texts – from Philosophy, Theology, Religious Studies, and Anthropology – reveal the breadth of critical approaches and responses to defining what is magic.